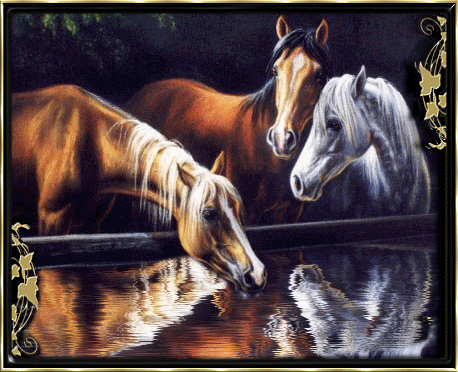 "Helping To Give Horses "
"Another Chance At Life "
"ANOTHER CHANCE EQUINE RESCUE": is a family run, self funded private rescue, dedicated to helping those horses that are abused, neglected, slaughter-bound or no longer wanted by their current owners. All funding is done by us, we dont advertise or ask for any donations.
"ABOUT US" :We have been rescuing horses for many years now. And one of our goals is to once again make horses affordable while rescueing, rehabilitating and placing them into loving homes.
"RESCUE AND REHABILITATION PROGRAM": Each horse received is, wormed, vaccinated and has their hooves trimmed and teeth checked by our Farrier,Vet and Equine Dentist. They are then cared for as needed with training, medications, hay, grain, suppliments, carrots and "Love". As you may know, all but the love can get costly. After the horse is well again, to the best of our ability, it either goes into our adoption program or is offered for sale to a loving forever home. We also help educate horse owners to better care for their horses, and provide help if possible.
"HORSES": Adoption fees of rescued horses vary from horse to horse depending on the purchase price of the horse and the medical expenses incurred. Unfortunately, a lot of owners who are neglecting their horses will not give them up without a price. Many horses are also purchased from auctions and they would otherwise have ended up at the slaughter yards. Some horses are surrendered to us from owners that can't take care of them anymore. Rescued horses vary, they may be registered or grades, young or old, ponies or drafts.

ALL ADOPTION FEES GO TOWARDS THE
EXPENSES OF OUR RESCUE EFFORTS
"ADOPTION PROGRAM": Most of the rescued horse vary in price, depending on costs incurred and the value of the animal. Each horse has had detailed medical records kept of it's stay with us. Most of these horses have endured a lot in their lives, so we must insure their safety and make sure that they go to the very best of homes.

"HOW YOU CAN HELP": Whether you are a horse owner, a lover of horses, or a concerned individual, we encourage you to become involved.

"THANK YOU FROM THE HORSES"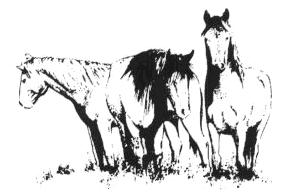 IF YOU LOVE HORSES AND LOVE SPENDING TIME WITH THEM
WE ARE ALWAYS LOOKING FOR A HELPING HAND TO CARE FOR THE HORSES
WE ALSO HAVE A STRONG NEED FOR SUPPLIES
PLEASE CONTACT US ANYTIME, IF YOU WOULD LIKE TO HELP IN ANY WAY
OR IF YOU WOULD LIKE TO MAKE INQUIRIES ABOUT PURCHASING A RESCUE HORSE