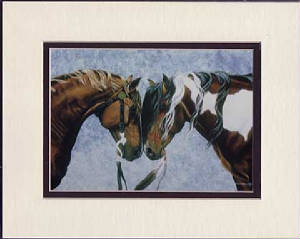 ...Every Horse has their story. Some stories are happy and some stories are sad but what they all have in common is that stories go on. On this page are the continuing stories of just a few of our former guests here at
"ANOTHER CHANCE EQUINE RESCUE"
We hope you enjoy them as much as we enjoyed making these horses (and their new families) wishes come true. These horses now have another chance at life, thanks to the special loving people that opened their homes and hearts to them...
These are just a few of the lucky horses that have been given "Another Chance"

...Please check back later as we add pictures and stories...

""ANOTHER CHANCE BEN"
Bens new family writes
Since its been so long so we thought that we would update you a bit on how ben is going. We have enclosed some pictures aswell so you can see for yourself. But his flatwork is going very well, he is being ridden almost everyday and is working very well. Its taken a lot of work but we have finally worked him out of pacing (or ambling), he will still do it occansionly if he gets tired or loses his balance, he is still getting used to having a rider on his back but his balance has greatly improved. He is very responsive to seat aids which just makes him a pleasure to teach, at the moment you can pretty much ride him just with your seat and voice. He is still a little unsure about leg aids but he is beginning to bend nicely around the inside leg. he is even starting to yield just a little at the poll whilst at the walk. He is so close to being able to leg yeild aswell, he has the basics and should be able to pull it off in no time. He is a pleasure to ride, he hasnt ever bucked or reared or bolted, hasnt even thought about it. He has been out on trails only a handful of times but nothing has been a problem, hes been through creeks and everything no worries. Thanks again, hope all is well!!
Kind regards,
Sally, Sharna and Ben!
... Please clic on the names below and they will take you to that horses page ...