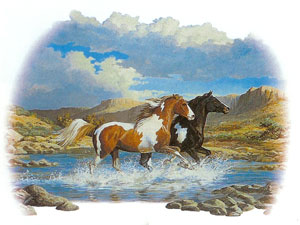 ...ON THIS PAGE ARE ONLY A FEW OF THE HORSES THAT WE HAVE RESCUED AND REHABILITATED OVER THE YEARS...
...SOME WE DONT EVEN HAVE PHOTOS OF TO REMEMBER THEM BY...
...SOME NOW LIVE ONLY IN OUR MEMORY...
...AND SOME NOW LIVE WITH PEOPLE WHO LOVE AND CARE FOR THEM... BUT ALL OF THEM HAVE LEFT THEIR MARK ON OUR SOUL, WHEN THEY PASSED THROUGH MY LIFE ON THEIR JOURNEY HOME...
...AT THE AGE OF 15 I RESCUED MY FIRST HORSE. AND EVER SINCE THEN I HAVE ALWAYS TAKEN IN HORSES THAT EVERYONE HAD GIVEN UP ON, AND MANAGED TO TURN THEIR LIFE AROUND BY GIVING THEM
...ANOTHER CHANCE...

Don't Cry For The Horses

They were ours as a gift, but never to keep,
As they close their eyes forever to sleep.
Their spirits unbound, On silver wings they fly.
A million white horses, Against the blue sky.


Look up into heaven, You'll see them above.
The horses we lost, The horses we loved.
Manes and tails flowing, As they gallop through time,
They were never yours- they were never mine.


Don't cry for the horses, They'll be back some day.
When our time is gone, They will show us the way.
Do you hear that soft nicker?


Close to your ear?
Don't cry for the horses,

Love the ones that are here.
BOB. 20 months old, after a lot of love and care
BOB went on to become a registered Pinto Stallion
BOB when rescued at 10 months old
Dam had died and he was left to starve in a drought paddock

"Goodbye"
With heavy hearts and a tear in our eyes,
after all these years, we must say goodbye.
Please understand, we've done all we could,
if there was anything we could do, you know we would.


I'm sitting right here, gently rubbing your ears,
while I talk to you softly, trying to hold back the tears.
The memories you gave us, we'll never forget,
especially the ones of the day we all met.


One last hug and one last kiss,
you have no idea how much you'll be missed.
To look into your eyes this one last time,
you tell me it's ok...you know it's your time.


Close your eyes now and go to sleep.
We'll pray to the Lord, your soul he'll keep.
Go in peace now, our good friend,
We'll stay right here with you, until the end.
Dream of that special day and time,
when we'll meet at the Bridge and all will be fine.
We'll run and play side-by-side,
with a soft warm feeling deep down inside.
Your memory will live on in each one of us..
You'll always be number one to all of us.
Have a safe journey through the night.
I promise when you awake, you'll be in God's light.

So with heavy hearts and tears in our eyes,
just for now my friend....we say goodbye.

JO after quit a bit of rehab and good food...
Hes a lovely boy now...Totally different horse...
"JO " a month after he arrived in poor condition
he was very distressed nervous and not very trusting of people
"LETTER FROM HEAVEN"

You were with me to the very end.
And even after I had gone, you held me in your heart.
I wanted so to tell you that this was not your fault.
I tried to let you know, in my own way, that it was time.
I thank you for your understanding and strength to do what was right for me.

And now that I am gone, I know no other will take my place in your heart.
But I want you to love another and make him happy, as you have me.
You will think of me, and there will be times you'll try to hide your tear-filled eyes,
But please, be happy and think not of sadness,
but of how I made you laugh and all the things we shared.

Here, all of us who have been ill and old are restored to health and vigor.
Those hurt or maimed are made whole and strong again,
just as we're remembered in your dreams.
There is no pain here.

There are green pastures to lay down in and friends to run with.
There are no fences, for no one has the desire to leave,
There are meadows and hills, water and sunshine,
and we are warm and comfortable.
There is much to enjoy and explore, and I have been quite busy.

I am very happy,
even though I miss someone very special who I left behind.
The day will come when I will suddenly stop, and look into the distance.
My eyes will be intent, my body quivering eagerly,
when suddenly I begin to run from my herd flying over the green grass,
my legs carrying faster and faster.

For I have spotted you.
And when we finally meet, we'll cling together in reunion.
As your hand caress my head and neck,
and you look once more into my trusting eyes,
we will know that our reunion will be forever.

To live in the hearts we leave behind is not to die.
Trust that there will come a time when precious memories will change your tears to smiles.
I leave this earth knowing my fate was always safest in your hands.
Thank you for loving me and having the courage to let go.
You helped me gently into the night. We will meet again.