~IN MEMORY~

OF THOSE WHO COULD NO LONGER FIGHT TO STAY WITH US.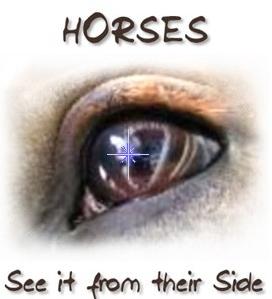 ... HORSES HAVE WALKED BESIDE US FOR THOUSANDS OF YEARS. THEY HAVE CARRIED OUR BURDENS, FOUGHT BESIDE US IN OUR BATTLES, GIVEN US STRENGTH, TAUGHT US DEEP LESSONS ABOUT LIFE, COMFORTED US IN OUR TIMES OF GREATEST SORROW AND LOVED US WITHOUT LIMITS. WHEN THEIR SHORT LIVES COME TO A CLOSE, SOME OF US FEEL A GREAT EMPTINESS AFTER THEIR PASSING, WHILE OTHERS REMEMBER THE JOYS THEY BROUGHT TO OUR HEARTS, EVEN IF ONLY BREIFLY...

...THIS PAGE IS DEDICATED TO ALL THE HORSES THAT WHEATHER THEY WERE WITH US LONG TERM OR FOR A SHORT TIME. LEFT THEIR PERMANENT HOOF MARK IN OUR HEARTS...

...LET A HORSE WHISPER IN YOUR EAR, AND BREATH ON YOUR HEART...

...YOU WILL NEVER REGRET IT...

...THESE ARE OUR HORSE ANGELS...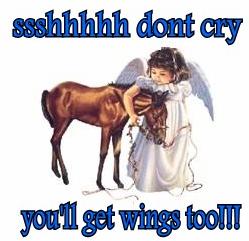 "" CLEETUS ''''
1970 - 8/11/05
~~~
... A BIG THANK YOU GOES TO MARK AND JULIE O'DONOHUE...
... FOR SHOWING SUPPORT, LOVE AND COMFORT TO CLEETUS DURING HIS LAST FEW DAYS ON EARTH...
~~~
..You were with me to the very end.
And even now that I have gone, I know that you will hold me in your heart.
I tried to let you know, in my own way, that it was my time.
And I thank you for your understanding, and having the strength to do what was right for me.
To live in the hearts we leave behind is not to die.
Trust that there will come a time when precious memories will change your tears to smiles.
Thank you for loving me and having the courage to let me go.
You helped me to go gently into the night.
We will meet again..
~~~~~
Hi Marg & Andrew,
Thank you so much for putting that up.. it really meant a lot to us.. I'm such a softie, who would believe that a grown, 39 year old man, would shed so many tears over an animal that he had only known for 2 days. In many ways his death has really helped me realize just how important it is to do the right things in life no matter how hard.
Once again, thankyou for the opportunity to care for this old fella in his last
days. Whether it was a day, a week, a year; the time didn't matter, he did.
cheers, have a great day!
Marky & Julie

"ASH"
1977 - 6/4/05
ASH a 29-year-old stock horse gelding, came to us knowing that our home would be the last place for him. His bout with cancer spread to the point where he was humanely euthanized April 6th 2005. Enjoying the fresh air, pasture and companionship of the horses and horse lovers to his final days. He was dearly loved and spoiled by everyone and we wish him peace.
~~~~
Don't grieve for me, for now I'm free,


I'm following the path God laid for me.


My pain was lifted when I heard Him call,


And you stood beside me through it all.

Be not burdened with times of sorrow,


I'll shine with the sun in each tomorrow.


My last year's been full, I savored much.


Tasty treats, long groomings, and your gentle, loving touch.

Perhaps our time together seemed too brief,
Don't lengthen it now with undue grief.


Lift up your heart and share with me,


God wanted me now, you set me free.

"LITTLE BRUMBY"
~~~
Weep not for me though I am gone.
Into the gentle night.
Grieve if you will, but not for long
upon my soul's sweet flight.
I am at peace, my sweet soul's at rest
There is no need for tears.
For with your love I was so blessed
For all those many years.
There is not pain, I suffer not,
The fear now is all gone.
Put now these things out of our thoughts,
In your memory I live on.
Remember not my fight for breath
Remember not the strife.
Please do not dwell upon my death,
But celebrate my life.
~~~~

"BELLA"
1990 - 12/2/06
We know we did a good thing that day,when we purchased BELLA from the slaughter pens. Were it not for us, BELLA would have died out there in that lonely place unable to walk. The love we shared, the hope we offered, the gentle hands, the soft words - those gave meaning and comfort to a troubled soul and gave us a reason to be thankful. BELLAS physical pain would never heal, but her heart felt all we offered. She knew and accepted what we had to do, of this I am sure. She, too, was thankful that we cared enough to let her go. In death, we gave her peace.
* MAY I GO NOW *
May I go now? Do you think the time is right?
May I say Goodbye to Pain filled days and endless lonely nights.
Iv'e lived my life and and done my best, an example tied to be.
So can I take that step beyond and set my Spirit free.
I didn't want to go at first, I fought with all my might.
But something seemed to draw me, to a warm and loving light.
I wanted to go, I really did, It was difficult to stay.
But I tried my best, I really did, so I could live just one more day.
To give you more time to care for me, and share your love and fears.
I knew you were sad ,and afraid because I saw your tears.
But I will not be far I promise that, and I hope you will always know.
That my spirit will be close to you, wherever you may go.
Thank you so for Loving me, you know I loved you too.
Thats why It was so hard to say Goodbye and end this life with you.
And Thank you for holding me that one last time, so I could hear you say.
Because We Loved and Cared so much for you Bella, we will let you go today.